We are thrilled to announce GNCO is a proud recipient of this year's 2023 Family Business Achievement Award from Smart Business Network!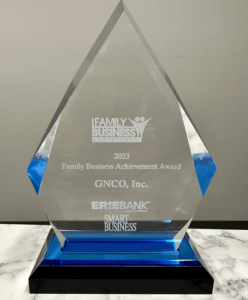 This award recognizes our 3rd generation family-owned business success and contributions to Northeast Ohio. The Family Business Achievement Awards honors companies representing some of Northeast Ohio's most successful family-owned businesses that are growing for the next generation.
Thank you to Matt Adams, CEO and President, and Bill Seward, COO, for paving the way forward. We are proud to be a family-owned business, with family values being the driving force behind the values of GNCO and all operating companies.
What is Smart Business Network? For more than 30 years, Smart Business Magazines, Events, and Books has produced the highest-quality content, events, and marketing materials for a diverse audience of entrepreneurs and senior executives. They highlight CEOs and senior executives who achieve success and demonstrate innovative leadership.